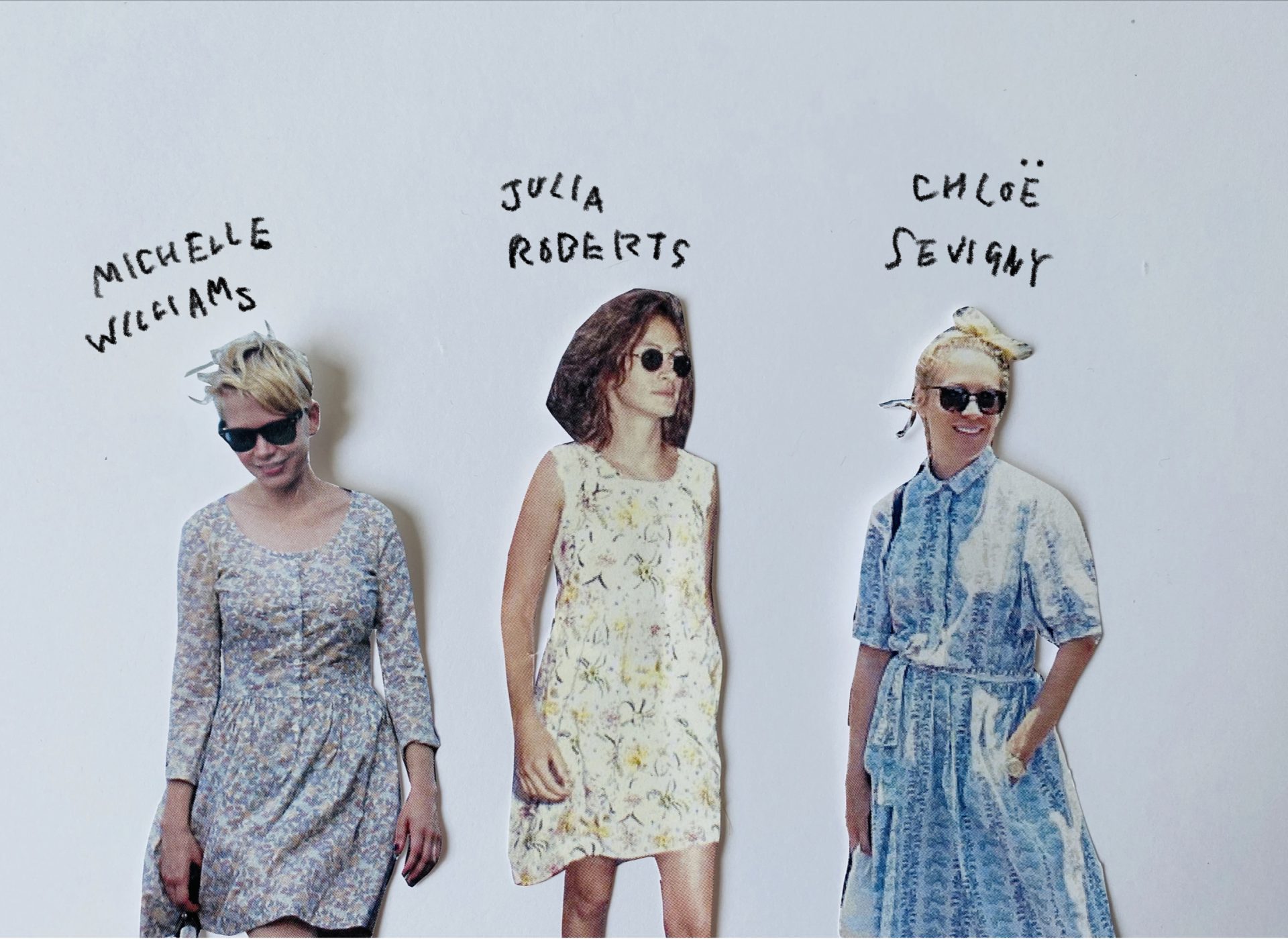 Every year, I buy two to three new dresses. They are light and easy mid-summer appropriate pieces that I look for online or find at thrift stores. My taste hasn't changed much over the years, so there are dresses that I purchased a while ago that I still wear every summer. The trouble is that, because I give them a thorough washing, some 10 years of washes have shrunk them shorter. I figure it's also because I'm growing too, but for now, I'm blaming it on the washing. It's a problem that I'm aging but the length keeps getting shorter. I want to keep wearing these dresses for another 20 years, but I'm not sure how I feel about wearing minis. 

But what blows all these worries away? Julia Roberts in a mini dress. She may strike more like the type to throw on a jacket, but flower print? Oh wait, right, she did have that sweet look in Steel Magnolias.

A mini with big pink and yellow flowers on white. And a pair of sunglasses. Note to mix a sweet dress with a pair of sunglasses for spice. 


Of course, that sweet and spicy mix… And just as I was about to let my guard down, enter the white socks. A summer dress, socks, and leather shoes. It's always flip flops or sneakers for me… Seeing as it's getting chillier, I'll mix it up with my black patent loafers and plain toe shoes with white socks. 

Now, if I had hair like hers… (We're free to think like that, right?)

When I think of summer dresses, I think of Michelle Williams. That combination of short blonde hair and a mini summer dress. Even Lucky (her dog) thinks she's looking great. 


A cute mini dress plus a broken folding umbrella is such a New York look. 


The bob and retro dress combo is sweet too. Michelle's personal summer dress look is great but her styling in the film Take This Waltz (released in Japan in the summer of 2012) was just so lovely, it seemed to merge with the real Michelle. (Not that I know her). 


On a level completely different to my laundry-shrunken dresses, Chloë Sevigny is someone grown-ups who wear mini dresses look to for style ideas. Ever since her teens, and now as a fortysomething, she's as sharp as ever as the fashion icon of the times. Short, tight, frilly floral print dress. 



Even Chloë, as sharp as she can be, has her "off" moments. A knee-length, flare dress cinched at the waist, buttoned all the way up. I think I could be friends with this Chloë. Not that it would ever happen. 


Starting from looking sharp, then relaxed, now Chloë in 2020 is walking the streets of New York in a frilly mini dress. 
You know I'll be wearing my shortened dresses next summer too. 
Written&Photographed by Naoko Kato
Editorial Assisted by Minori Kitamura